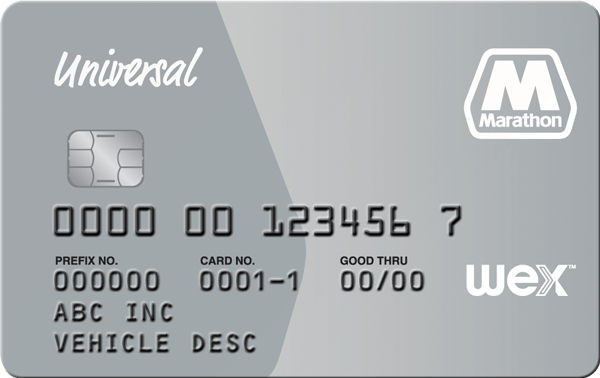 Marathon Universal Card
Fuel anywhere, and earn rebates up to 7¢ per gallon at over 5,400 Marathon locations.1
Apply Now
The Card Details

Savings
SPECIAL OFFER: Save 12¢ on every gallon at Marathon for first 3 months1
Save up to 7¢ a gallon when you fill up at Marathon (over 5,400 U.S. locations)1

Acceptance
Accepted at 95% of U.S. gas stations
Accepted at over 45,000 service locations

Fuel Accounting
Automatic expense tracking — no more
lost fuel receipts
Detailed info for every purchase
Know who spends what, where, and when

Security
PIN authorization at the pump
Real-time fraud monitoring and alerts
Instantly deactivate lost or stolen cards

Spending Control
Manage spending by card or driver
Restrict to times of day or days of week
Limit by product type, location, or
amount

Fuel & Tax Reports
Detailed, one-click reports
Available tax exemption reporting
Create easy custom reports

Account Mgt
Easy online access and mobile app
Available online payment

Service & Support
U.S.-based customer service (24/7)
Roadside assistance (24/7)
VERDICT: Great fleet card savings, plus one of the best rebates we've seen. If there are Marathon locations near your business, check out this card.
Marathon Universal Card1
| Monthly Gallons at Marathon | Cents Per Gallon |
| --- | --- |
| 500-2,999 | 1¢ |
| 3,000-4,999 | 2¢ |
| 5,000-6,999 | 4¢ |
| 7,000-9,999 | 5¢ |
| 10,000+ | 7¢ |
1New accounts only, subject to credit approval and applicable law. The 12 per gallon promotional rebate is based on your billing cycle and ends 90 days after the Marathon fleet card account is issued. The up to 12 per gallon standard monthly fuel rebate begins when the promotional rebate ends. Standard rebates are based on the number of gallons purchased at Marathon-branded locations each month with a Marathon fleet card. This promotional rebate offer is subject to change or withdrawal at any time prior to your submission of an application, and is limited to 10,000 gallons per month. Rebates for this program are subject to change at any time. Refer to the tier table provided or call 1-855-290-7530 for more details. Rebates will appear as a credit on your billing statement, and earned when balances due are timely paid pursuant to the terms and conditions of your account agreement.